"My Song For You"
A new album of original songs uniquely inspired by Bruce's children and grandchildren. Passionate, personal and uncommonly moving… each song tells a story and takes the listener on a musical journey of the heart. "These are love letters to the most precious people in my life," Stacey explains. "I wanted to capture the character and personality of each loved one with lyrics and melodies that would be for them alone. "This is my song for YOU". Getting that part right was very important to me, and my greatest reward has been watching the kids delight in listening and recognizing themselves (or others) in each song. Of course, I'm not just singing about the subjects. I'm singing to them." 
There's a range of musical style on the album. It's unconventional in a way, because in writing the songs, Stacey let the personality of each subject drive the creative, musical process. From tender acoustic ballads, to clever pop arrangements and driving, groove-driven charts, the songs flow together seamlessly thanks to the narrative theme in the lyrics and Bruce's honest vocal renditions.
The musical arrangements and production are also distinctive. (With a few exceptions, Bruce arranged the music and actually played all instruments on half of the songs). He comments; "I've been inspired over the years with solo recording projects from songwriter/artist greats like McCartney and Stevie Wonder, where they performed all the instruments themselves. The results produced an intimacy and creative energy in the recordings that you just don't realize from the typical studio session approach. I took this approach on songs like, "Baby Bump", "Frankie Norma Jean", "Chelsea Grace", "Memphis" and "River June", tracking  everything from guitars, to hand percussion, to bass, drums and vocals on my own. It's the musical equivalent of sending a hand-made card or valentine to someone you love".
My Song For You features 11 original songs; (1) Noelle, (2) Mr. Myles, (3) Baby Bump, (4) Frankie Norma Jean / Unicorn In My Room, (5) Memphis, (6) Sheryl, (7) River June, (8) Elena's Song, (9) Chelsea Grace, (10) June Marie and (11) When Autumn Smiles. Now available on iTunes and all major platforms. You can also download a FREE booklet with song lyrics, exclusive pics and album notes at: chelsearoadmusic.com
Bruce first stepped into the studio in 2014, finishing the project in 2020 with the recording of Chelsea Grace, composed for his youngest granddaughter. As songs were completed they were shared with family, a few friends and of course the special person each song was written for.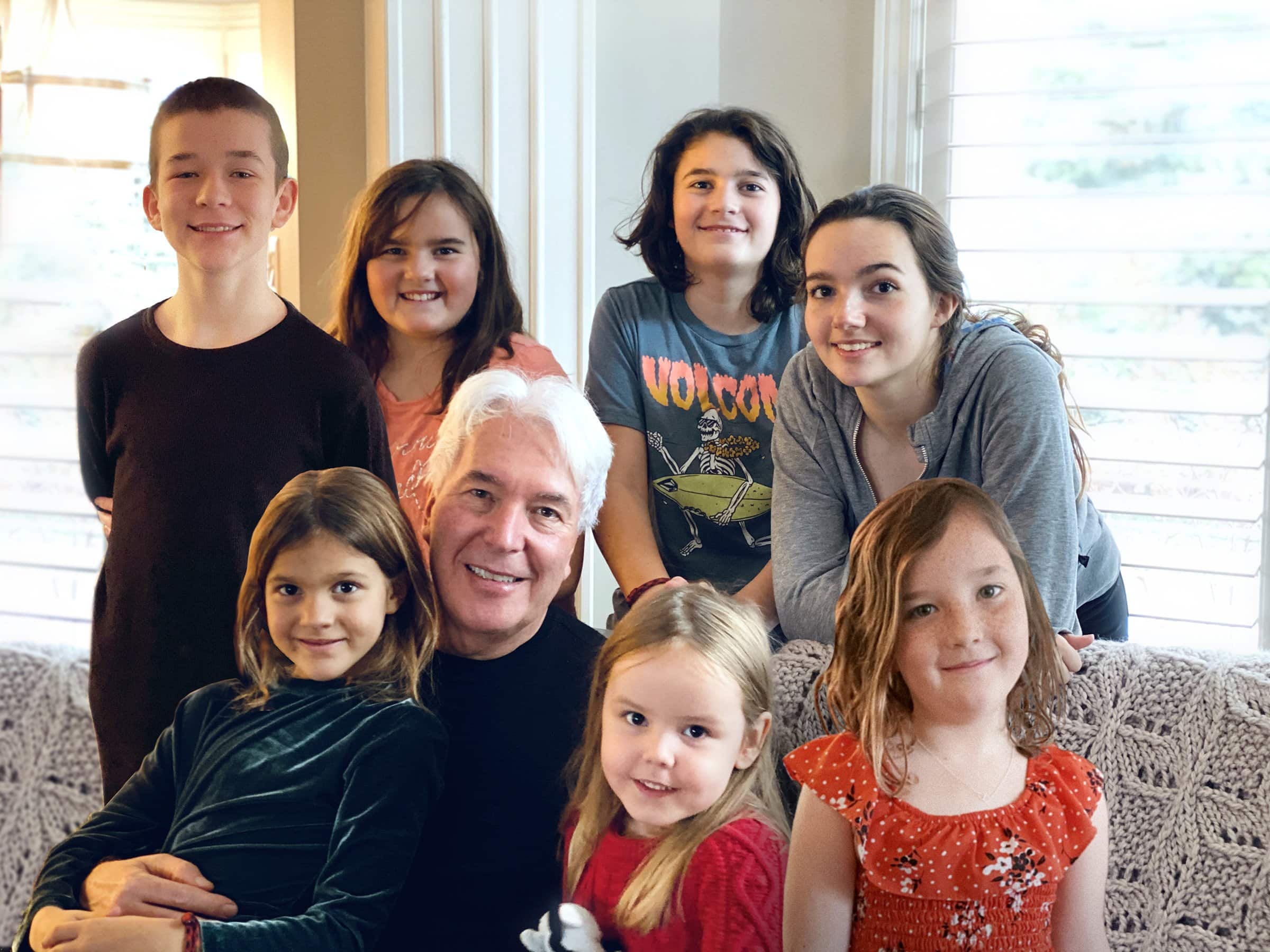 Bruce is pictured above with his seven grandchildren. Songs on the project were inspired by each of them. An additional five songs  round out this unique collection. The special edition album comes with a digital booklet with pictures and hand written notes from Bruce. Available at Chelsea Music Music.