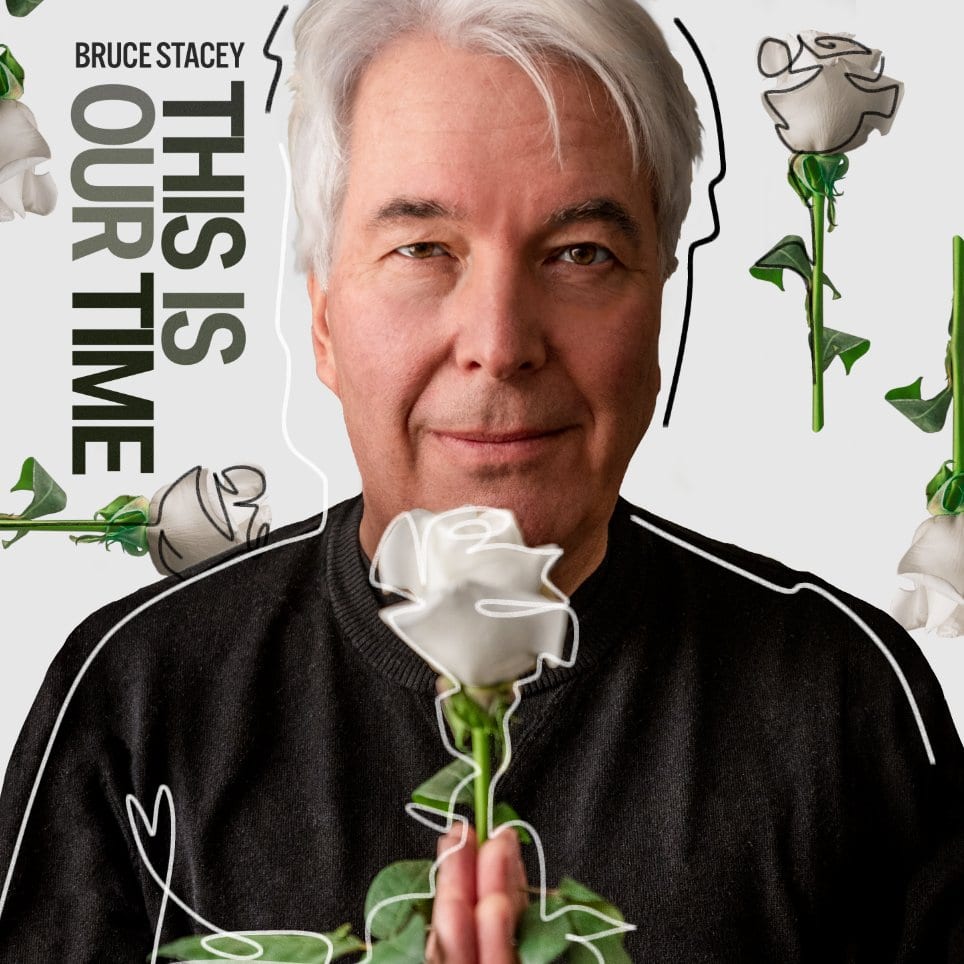 "This Is Our Time"
Featuring 10 original songs: (1) Chelsea Road (2) Memory of Your Kiss (3) Little Things (4) This Is Our Time (5) Black Dress (6) The Days of Romance (7) A Matter of Love (8) Promises That We Made (9) Lifetime Guarantee and (10) Saved By Love.
Download the album from Chelsea Road Music and receive a bonus booklet with lyrics, pics and production notes from Bruce.
Pictured below (upper left): Bruce in early studio session for "This Is Our Time" with engineers, Darryl Kingdon and George Graves. Additional photos show Bruce in studio in 2021. Bruce performed all instruments on Promises That We Made, the last song composed and recorded for the album. Black Dress and Lifetime Guarantee were recorded in December 2020. Bruce arranged horns and strings for those songs and played all instruments with the exception of piano and electric guitar contributions from Rob Reed and James Anthony.
The album's title track, "This Is Our Time" is one of a half dozen un-recorded love songs penned by Bruce over the years. In 2015 Bruce recorded several love songs as an anniversary gift for Elaine…with no thought of releasing them publicly. Recording began in Nashville with legendary session pianist John Barlow Jarvis playing keys on the tracks, "Little Things", "I Guess We're the Last", "Memory of Your Kiss" and "Saved By Love". Several months later, additional songs ("A Matter of Love", and "Chelsea Road") were recorded in Toronto with Canadian jazz pianist, Mike Janzen. Bruce shared the love songs with family and friends and was often encouraged to share them more broadly, but it wasn't until 2020 (in the middle of the COVID shutdown) that he gave the idea any serious thought. "I began thinking that with a few more tunes, I'd actually have a new album". In the fall of that year, Bruce invited friend and pianist Rob Reed along with Canadian blues-guitar legend James Anthony into the studio to record two additional songs. James and Rob are both smokin' on the playful R&B tune, "Black Dress"(inspired by Bruce's favourite dress of Elaine's)! "Lifetime Guarantee"  is an almost forgotten song Bruce composed back in the 80's ( but found recently in the form of a hand-scribbled note, inside a box of old photos.) Bruce comments, "I thought the song might be a little too light and nostalgic at first. I invited Elaine to join me in the studio on vocals just for the fun of it. After I added the new lyric, "Just a happy old couple, sitting on the front porch swing…" it suddenly felt like we could own it!" The contemplative ballad "Promises We Made" was the last song Bruce composed. He played all instruments on the track, recorded in his home studio.
"This Is Our Time" was recorded at: The Sound Kitchen, Nashville Tennessee, Noble Street Studios, Toronto, B Town Studios in Burlington and Chelsea Road Studios in Carlisle. Nashville and Toronto tracks were mixed and mastered by Darryl Kingdon and *George Graves (*noted for his work with classic artists such as Harry Nilsson, Neil Diamond, Peter Gabriel and the Guess Who). Songs were mixed at Jukasa Studios on a legendary SSL 4072G console imported from Abbey Road Studios in London. Additional songs were mixed and mastered at Chelsea Road Studios by Bruce and Mark Underdown. Check out "Little Things" the first music video from the album. The video was directed by Chris Stacey and filmed in California. Hope you enjoy the song and and the production pics!
Download the FREE "This Is Our Time – Special Edition Booklet with pics, production notes and personal reflections from Bruce at: chelsearoadmusic.com
Simply scroll down to the "This Is Our Time" album on the Chelsea Road Music site and click on the download link for your FREE album booklet!
PHOTO GALLERY