WELCOME TO THE OFFICIAL SITE OF ARTIST, COMPOSER & DIRECTOR – BRUCE STACEY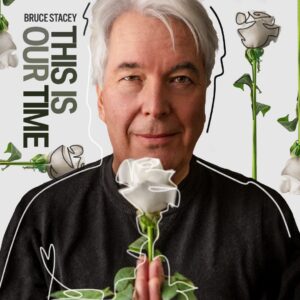 Featured album: this is our time
The album's title track This Is Our Time was one of a half dozen un-recorded love songs penned by Bruce over the years, but never recorded. He presented these songs as an anniversary gift for Elaine in 2015, with initially no thought of releasing them publicly. Recording started in Nashville with several great musicians, including the legendary session pianist John Barlow Jarvis (featured on Little Things, I Guess We're the Last, Memory of Your Kiss and Saved By Love). Several months later, additional songs were recorded in Toronto with noted Canadian jazz pianist, Mike Janzen.
Summer 2021 Update
Dear Friends,
It's been an interesting year for me so far; creating new music, re-visiting legacy projects and continuing creative content development for Wonderborn Studios in the UK. On a personal note, Elaine and I have been experiencing the emotional impact of geographical moves for some of our kids and their families. Two of our daughters and their spouses have recently moved from homes in Ontario to beautiful Prince Edward Island…taking most of our grandkids with them! A poignant reminder to Elaine and I that life is ever-full of change and new adventures. With our oldest son Chris and his daughter living in California, it looks as if alternating trips to the Pacific and Atlantic coast are going to become our new norm!
On the music front, I'm pleased to share that Chelsea Road Music is now LIVE with links to all of my music, available on your favourite platforms: (Apple, Spotify, Amazon Music, YouTube Music, etc.). Simply click on the applicable icon below each album title to listen to songs, or add tracks to your personal playlist. Visit Chelsea Road Music soon and share the link with your friends!
I've finished two new albums this past year, "My Song For You" and "This Is Our Time", as well as releasing re-mastered music from The Stacey Band on 3 Stacey Anthology albums.  We've  prepared FREE downloadable booklets for these albums with lyrics, great pics, production notes and original artwork. When visiting chelsearoadmusic.com just click the link on the specific album page to download the booklet and enjoy!
I'm particularly excited about the just released, 40th Anniversary Edition of "THE SCROLL with Seven Seals". The dramatic rock-musical has been completely re-mixed and re-mastered, featuring never-before-heard, extended narration from Malcolm Muggeridge. It sounds amazing. We've also included a FREE downloadable, illustrated "THE SCROLL" booklet featuring the complete work with narration, lyrics, commentary notes and  articles on Malcolm Muggeridge and THE SCROLL's exciting premiere at EXPO 86 in Vancouver.
I'm looking forward to diving into some new music creation this fall. I've got a few song ideas just waiting to take flight and I'm really excited about some new kids projects I'm working on with Wonderborn Studios. More about this next time!
Until then, stay safe, be kind and love one another!
Bruce
Dear Friends,
Welcome to the launch of brucestacey.com, a new, creative showcase for my music and art. When I acquired the URL more than a decade ago I had no plans for what I'd use if for, other then reserving my namesake in a .com for posterity. With the help of Valiant Creative, (who created this site) I am so pleased to have a platform to share my past, present and future artistic journeys with you!
Like many, I've found this year of COVID presenting me with its share of challenges. But it's also afforded some of us time to reflect and focus on back-burner projects that might never have happened otherwise. This has certainly been the case for me! During the lock-down I've been quite busy in my studio, completing a couple of music projects that I've been picking away at for several years. ("This Is Our Time" and "My Song For You" are
NEW albums, featuring never-before released songs and music). I've also been sifting through my old creative archives, discovering unfinished songs and concepts tucked away for years.
In 2017 a European music label contacted me about re-releasing several songs from my early music catalogue. Since the releases had previously existed only on vinyl and cassette, the process required going back to the original tape masters to transfer and master new, high-quality 96k digital masters. Using the advance from the label, I contracted a studio in New York to do high-quality audio transfers. (A process that involves "baking" the decades-old 1/2 inch master tapes before transferring to digital using restored, vintage reel to reel tape machines). To my delight, the resulting sound quality pulled from those original master tapes was amazing. As I listened to the music I remembered those days and the many amazing friends, musicians and artists who joined me on that creative journey. Sadly many of them have passed away, including artist/musicians; Dan Peek (America), Bob McBride (Lighthouse), conductors Paul Mickelson and Morley Halsmith and others. In the process, I found archival photos, studio tracklogs, old concert photos and concert ticket stubs, many that I've shared with you in articles.
It's quite a trip down memory lane! You can listen to the music and view detailed notes and pics in 3 new Anthology Album Collections, being released.
My plan is to regularly post new music and art on the site and hope you will take the time to visit often, see and hear what I've been up to… and drop me a line to tell me what you think. It's all to celebrate the love of family, friends, creativity and music.
Well, that's it for this month!
Thanks for coming and welcome to the creative journey of my lifetime!
– Bruce.