WELCOME TO THE OFFICIAL SITE OF ARTIST, COMPOSER & DIRECTOR – BRUCE STACEY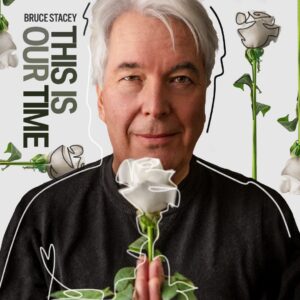 Featured album: this is our time
The album's title track "This Is Our Time" was one of a half dozen un-recorded love songs penned by Bruce over the years, but never recorded. He presented several of these songs as an anniversary gift to Elaine in 2015, with initially no thought of releasing them publicly. Recording started in Nashville with several great musicians, including the legendary session pianist John Barlow Jarvis (featured on Little Things, I Guess We're the Last, Memory of Your Kiss and Saved By Love). Several months later, additional songs were recorded in Toronto with noted Canadian jazz pianist, Mike Janzen.
Spring 2022 Update
Hello Friends,
I must apologize for my absence from the usual updates on brucestacey.com the last couple of months. There are times in life that we learn things don't always go according to plan, and that has certainly been my recent experience. Let me tell you about it…
Elaine and I travelled to the beautiful island of PEI in late February to spend time with our two daughters and their families who moved there this past year. The plan was for a short, three- week family visit and to take possession of a small, summer residence we purchased that was closing that month.
During our first week, our daughter Sheryl asked if we could stay at her farm house with the kids for a week while she and husband Todd flew out for a business trip to the USA. We said sure. Here's where that un-planned part kicks in…
Within a couple of days of us moving in, the grandkids one-by-one contracted COVID. Elaine and I had dutifully masked-up and maintained social distancing during our stay with the kids. When Sheryl arrived home, we moved back to our place and for a couple of days thought we had actually evaded the virus. Well, not so. I developed symptoms in the form of a painful, sore throat that lasted for about 4 days. I was thinking I was perhaps on the mend. Unfortunately, things took a bad turn and I was hit with debilitating fatigue and growing stomach upset. Within days the pain in my gut became unbearable and so Elaine drove me into emergency to see what was going on. That was the beginning of a month long hospital stay and a fight to recover from serious illness… the likes of which I've never faced.
In addition to COVID, which had left fluid build-up in my right lung, my gall-bladder had totally failed and the organ infection had spread to my blood in a life-threatening condition known as sepsis. In the days ahead I faced major surgery, anti-biotic treatments to fight the infection and ultimately blood transfusions to help restore my low hemoglobin and white blood cell counts. I was released from hospital April 22nd and have been recovering at home. I am weak, but thankful for the excellent care I received at Queen Elizabeth Hospital in Charlottetown and for the prayers and encouragement from so many friends and family. This update is titled "thankful", because thankfulness has been the overwhelming emotion and feeling that has sustained me throughout this journey. Thankfulness for the doctors and nurses who cared for me 24-7, thankfulness for Elaine who was at my side every step of the way and thankfulness for God's promise that gave me faith to press on. "For I know the plans I have for you," declares the LORD, "plans to prosper you and not to harm you, plans to give you hope and a future." Jeremiah 29:11
I've often reflected on the wise words of Malcolm Muggeridge who in his later years said, "As an old man…looking back on one's life, it's one of the things that strikes you most forcibly-that the only thing that's taught one anything is suffering. Not success, not happiness, not anything like that. The only thing that really teaches one what life's about…is suffering, affliction."
If this is true (and I believe it is) then I have indeed been to school these last weeks and have learned an important lesson… for which I can only be, thankful.
Hi All,
With international travel finally starting to open up, I travelled to the United Kingdom via Iceland this October for creative meetings with friends at Wonderborn Studios and Three Arrows Media in the beautiful city of Bristol. The six night stop-over in Iceland was amazing and afforded me the opportunity to visit the capital city of Reykjavick and Höfði, the former French consulate where U.S. President Ronald Reagan and General Secretary of the Communist Party of the Soviet Union Mikhail Gorbachev, met on 11–12 October 1986 for that historic summit meeting. It was at this very location that the video of "Peace On Earth", (the song that I composed for the United Nations International Year of Peace that same year) was played for the two world leaders.
You can read more about that remarkable event and view the video that Presidents Reagan and Gorbechev watched, here.
It was also great to have Elaine join me on this trip. Taking in the awe-inspiring vistas of Iceland's mountains, glaciers and volcanos is something that needs to be a shared experience! We traveled from Iceland to England where I had creative development meetings at Wonderborn Studios in Bristol. Wonderborn is the creation and passion of the gifted entrepreneur and CEO, Toby Hughes. His company's goal is "to inspire and awaken wonder across the generations." I love that. Three Arrows Media, a world-class producer of award-winning children's and family media, is a fully owned subsidiary of Wonderborn and together they are creating some amazing new content for kids. It's a pleasure to be working with this amazing team on the creation of original content that can have a positive impact.
In a world that seems increasingly angry and divided, music, art and entertainment that present a positive message of love and unity can make a difference. Content that places values above politics, compassion above self-interest, grace and forgiveness above judgement and blame. In the words of a great old song, this is "what the world needs now."
The Prayer of Saint Francis perhaps says it best;
Lord, make me an instrument of your peace.
Where there is hatred, let me bring love.
Where there is offence, let me bring pardon.
Where there is discord, let me bring union.
Where there is error, let me bring truth.
Where there is doubt, let me bring faith.
Where there is despair, let me bring hope.
Where there is darkness, let me bring your light…
Something to reflect on as we head into this season of peace on earth and good will.
–Bruce