WELCOME TO THE OFFICIAL SITE OF ARTIST, COMPOSER & DIRECTOR – BRUCE STACEY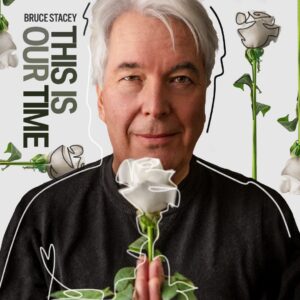 Featured album: this is our time
The album's title track "This Is Our Time" was one of a half dozen un-recorded love songs penned by Bruce over the years, but never recorded. He presented several of these songs as an anniversary gift to Elaine in 2015, with initially no thought of releasing them publicly. Recording started in Nashville with several great musicians, including the legendary session pianist John Barlow Jarvis (featured on Little Things, I Guess We're the Last, Memory of Your Kiss and Saved By Love). Several months later, additional songs were recorded in Toronto with noted Canadian jazz pianist, Mike Janzen.
Spring 2023 Update
The Beautiful Island
Hello friends, Spring is a season of new beginnings and growth. As I type this update, I can identify clearly with that description. Elaine and I will make our permanent move to Prince Edward Island (PEI for short) in March. For those of you not yet acquainted with the "beautiful island", PEI is located in Atlantic Canada and is the smallest Canadian province, covering just 5,620 square kilometres and the home to about 167,000 residents. The island has more than 800 kilometres of sandy beaches and is surrounded by the warm waters of the Gulf of the Saint Laurence. You are never more than 15 minutes to a beach from any point on the island and it takes only 3 hours to drive from one tip of the province to the other. As you travel, you'll traverse rolling green hills, splendid coastal towns and view amazing lighthouses. Our new home will be located on the north shore of the island, the subject of a recent new painting (on the left). Why our move? Well, it was family of course! We are following our two daughters and their families who moved to PEI in 2021. I am writing this update from California, where our son Christopher and his family live. Our family now extends from the Pacific to Atlantic shores, making regular trips from coast to coast a new normal for us.
Creative Adventures
What's coming creatively downstream? Construction of a new creative work-space in PEI will be one of my first projects, completion scheduled in the first quarter of 2024. The plan is to create a multi-room studio space that can serve my audio recording needs and double as an art studio and edit-suite as needed. In the meantime, script-writing and composing new music will keep me busy. I'm also excited about the possibility of fresh, musical collaborations and creation in PEI. The island seems to be a magnet for artists and musicians, so the prospect of working with some of the fine talent residing in Atlantic Canada is something I'm really looking forward to.
17-23
The release of Bruce Stacey 17-23 this past year was the culmination of a multi-album, musical passion-project that started during the COVID lockdown. The effort resulted in a re-mastered collection of legacy music dating back to the early seventies. Re-visiting old master recordings was a trip down memory lane for me, bringing back fond recollections of past musical collaborations with gifted artists, musicians, arrangers, and friends… many who have journeyed on. We released 7 new album projects in all! You can find all of my current and legacy album links by clicking HERE. You'll also find FREE DOWNLOADS to digital booklets featuring exclusive photos and liner notes for many of the albums on the same site. Check it out!
Thanks for dropping by and God bless,
Hi Friends,
I hope this update finds you in a good place, enjoying family, friends and sunshine!
Summer is well underway and I'm grateful to be fully recovered from the health issues I was facing in the spring. After a forced hiatus from my usual routine, I must confess that getting back into a creative groove has not been as simple as sitting down in front of my computer to write, or grabbing my guitar to compose a new song. It's been more a season of reflection, re-assessment and waiting. Something that's required patience and grace to accept and embrace. A time as they say to "smell the roses", or if you happen to be staying in Prince Edward Island in June or early July, "smell the lupins" that grow wild in fields and roadsides across this beautiful island.
Elaine coaxed me to break out my acrylic paints and capture a scene (not far from our summer residence near Cavendish) on canvas a few weeks ago. Creativity reborn with a brush!
She was looking for something to hang in a our guest room, so I guess you'd call it my first commissioned work of the summer.
Painting the lupins reminded me that the most meaningful art is often inspired by real places, people and experiences, capturing the beauty in a fleeting moment or a passing season. The lupins in PEI only last until mid-summer, but my painting will preserve the memory for Elaine and I long after these dog days of summer are gone.
Isn't if funny how art and music can take us back in time? How they can form place cards in our hearts of the places and people we shared life with long ago? In recent years I've been inspired to make my musical and creative subjects the people and places closest to my heart. My last two albums, "This Is Our Time" and "My Song For You" were musical portraits of people and places close to me…those I dearly love. Now that I'm in my 60's, chasing any kind of dream to reach a broad audience with my music or creative projects seems to me to be unlikely and frankly, exhausting!
I keep telling myself I'm semi-retired, so I should start acting like it!
I'm creating for the love of art, the love of my Creator and the love of the people and places that I've been blessed with. It feels really good.
What's next? Well, I think I'll keep the paint box and easel close by so I'm ready when visual inspiration strikes. There's new music in my heart as well – some new song ideas that seem destined to find a way out in the months ahead. I also remain committed and excited about my work with Wonderborn Studios in the UK and their vision to share faith, hope and love with kids everywhere.
I'll be back again in the fall. Thanks for stopping by!
Bruce