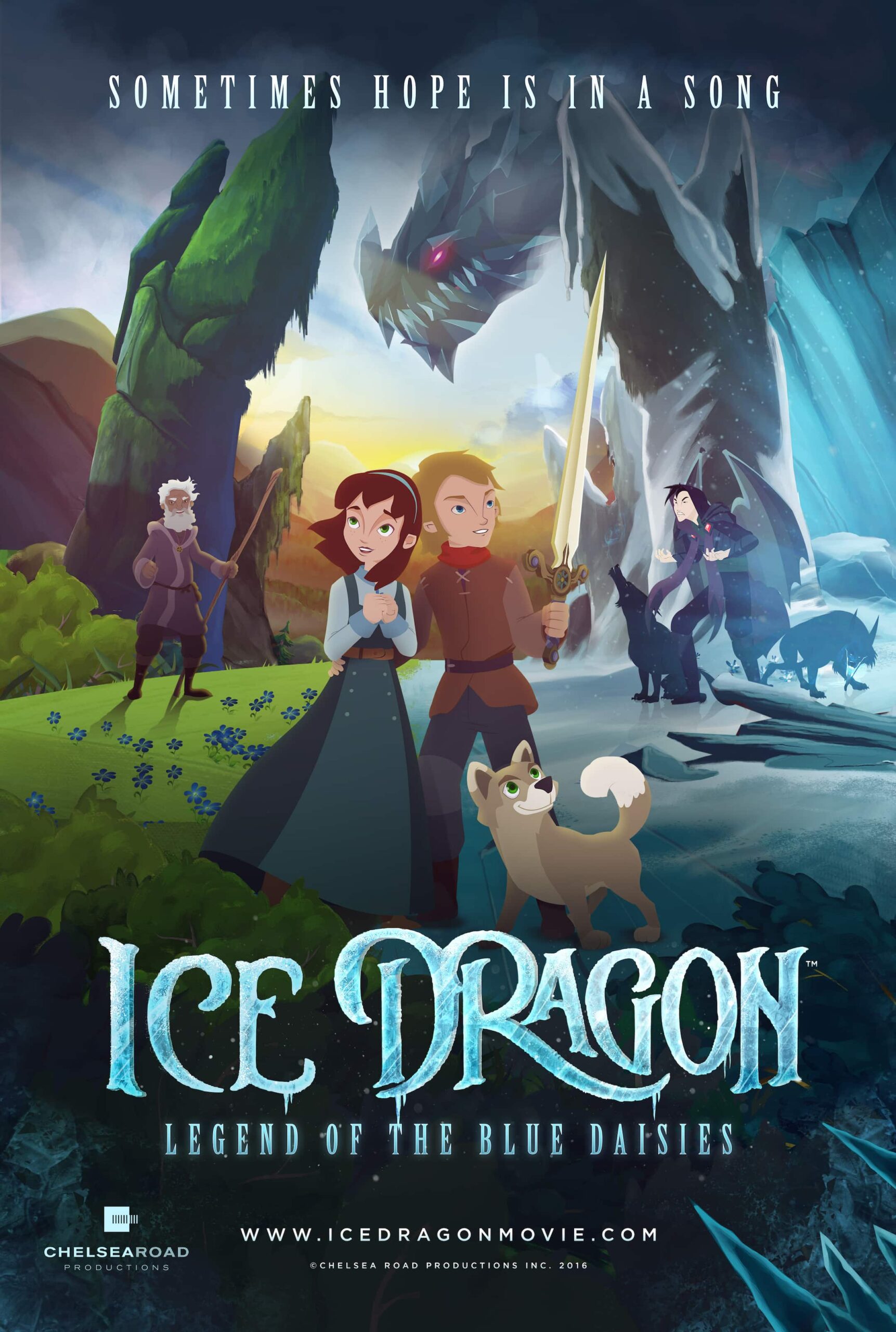 Bruce first presented the original Blue Daisies story in 1993 at a speaking engagement in a church in Moscow. The story sat tucked away in an office drawer for over 25 years, until Bruce shared it with Luke Conrad, President of Cartoon Conrad Productions. Luke encouraged Bruce to develop the story into an animated production, which became a reality in 2014.
ICE DRAGON – LEGEND OF THE BLUE DAISIES
A short story written by Bruce for his children in 1992 became a full-length, animated feature 26 years later in 2018. Bruce directed the film and co-wrote original songs and music for this modern parable telling the story of a young girl who's faith rescues her mountain village from an evil dragon.
"An inspired animation adventure for the whole family".
JUST LOVE MOVIES
"It's like Game of Thrones for the Disney crowd."
G. Robertson – The 700 Club
"In this animated musical adventure, Melody a gifted young dreamer and her feisty friend Leif, must set aside their differences and use the magical power of blue daisies and a song to save their peaceful village from an ancient Ice Dragon that threatens to bring endless winter".
Sample songs from the film and download the Ice Dragon – Legend of the Blue Daisies  Original Soundtrack Album at Chelsea Road Music.
Bruce authored the original story titled Blue Daisies in the Summer of Winter during one of numerous visits he made to Russia in the early 1990's. His first trip to St Petersburg was for an international arts festival called Sacred Fire, which brought artists and performers from around the world together to aid orphans in the city with proceeds from concerts. While Bruce rehearsed with the St Petersburg Symphony and Choir for Russian performances of his musical, The Scroll at the Oktyabrsky Grand Concert Hall, Elaine toured orphanages in the city. It was during her visit to Orphanage #4 that she met Elena, a frail 5-year-old girl who led her by the hand on a tour of the residence for sick children. Elaine's destined meeting with Elena in 1992, resulted in Bruce's return to Russia nine months later to adopt her. A year later the family adopted Alex, another child from the same orphanage.